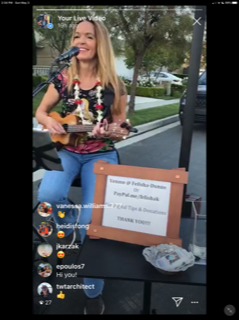 Book your own private concert in your neighborhood.  Felisha will play live and safely distant in your neighborhood for you and your neighbors.  In addition, the party and music can be live on Instagram to enable your friends and family to tune in from anywhere in the world and join in on the chat line while listening to Felisha.  A great way to connect with your friends and family that aren't able to join with you in person.
Due to Covid-19 shutdowns….Coach House Concert has been rescheduled to Sunday, June 28th…If you have purchased tickets from Felisha for the original 4/26 date, THEY ARE STILL GOOD! You have the cool "pandemic" tickets….hold on to those!!! You may still purchase tickets from Felisha at this time for the new show. Email how many at:
felisha@felishamusic.com
Felisha has continued teaching music and has started her own teaching channel on youtube made for kids and adults. View the youtube video above, like it, and please subscribe!